Today, was our last day of T-ball. This was the first year for both Alexis and Carter. And, boy, did they love it!
First, my two favorite photos of the season:
Alexis (UCLA Bruins)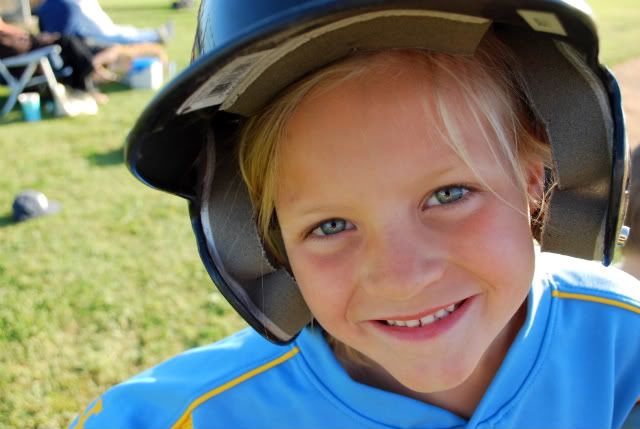 Carter (Colorado State Rams)
And here's a few (or more) things I never want to forget about this first season:
How during one of the games Carter kept adjusting his cup (see below: he's in the pitcher position). I was so embarrassed. Then, when we got home he got undressed and yelled out:
"MOM, you put my thing on upside DOWN!
Chad came in to see how I had put it on...and was dying to say the least. WHOOPS. I learned my lesson.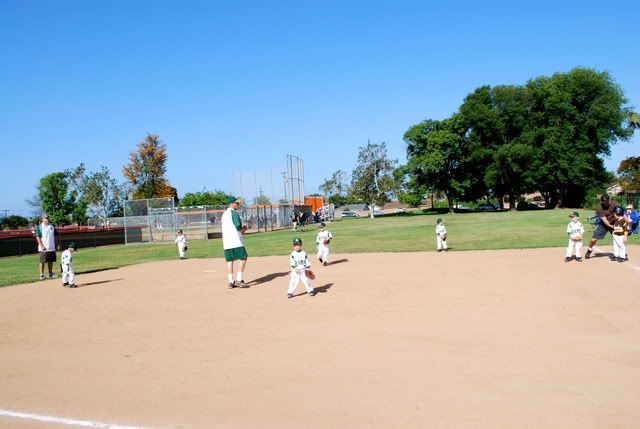 How Alexis would make signs to hold up on the side line cheering Carter's team on. Then she started making signs for her own team for Carter to hold up. Too cute..that girl!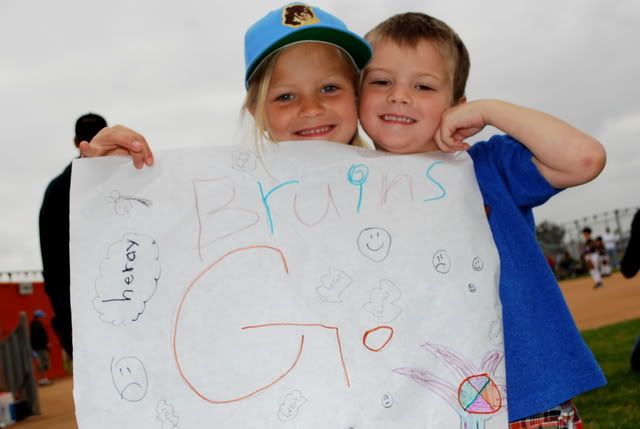 How Carter was OBSESSED with his orange bat. At first he gaurded it with his life. Then he adopted his Dad's "neat freakishness" and would line it up on the fence every time. He did the same with his batting helmet, hat and mitt...when he wasn't using them. He'd tuck his mitt into his hat every time without fail. Always, putting it in the same spot. As for Alexis...unfortunately she adopted my style: throw it somewhere...you'll find it when you need it.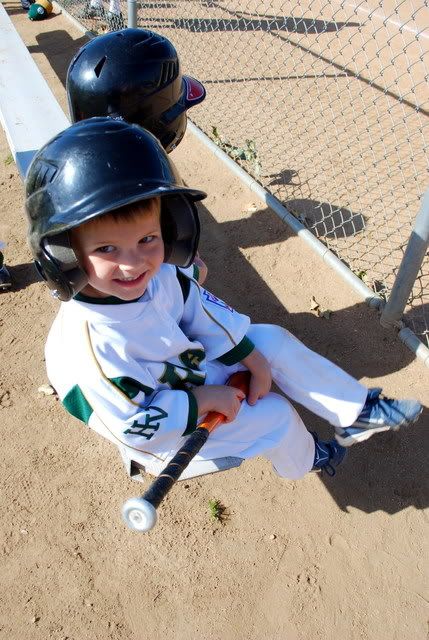 How it's really hard not to snap pictures of the kids when they are in "baseball ready" form. Those bums sticking out are just too cute!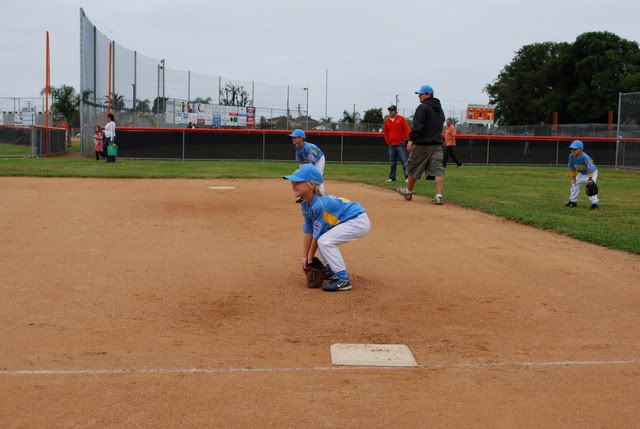 How Chad was such a good coach. He had originally signed up to be Carter's manager but the league asked him to manage Alexis' age group. Then after taking that on there was a misunderstanding and he ended up being a coach for Carter's team too. He never complained or tried to iron out the misunderstandings...he just took it on. The kids loved him. He would always do a cheer with the kids after the game. He'd highlight what kid really excelled in that particular game and he'd give them a treat. I overheard the Mom's and they came to tell me numerous times how much they loved Chad. How they hoped he'd coach next year. And how they wished he would have been their kids coach last year because their boys would have loved T-ball then and would have been such better players had they had Chad all along. Pretty nice compliments if you ask me. Well deserved, too.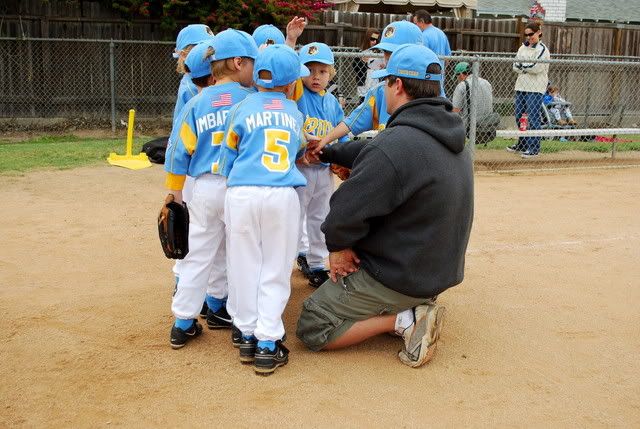 How Carter's manager was so pumped about the game. Giving them pep talks all the time. He bought snacks and drinks to every practice for the kids.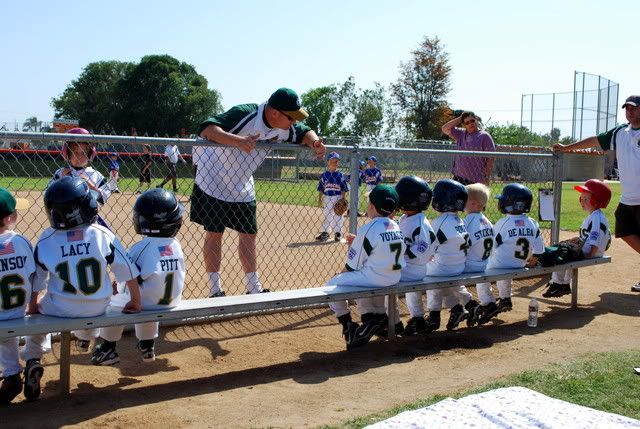 How Alexis couldn't help coming over to play with Owen between innings. She loves getting those kisses from Owen. And his legs just go crazy when he sees her walking towards him.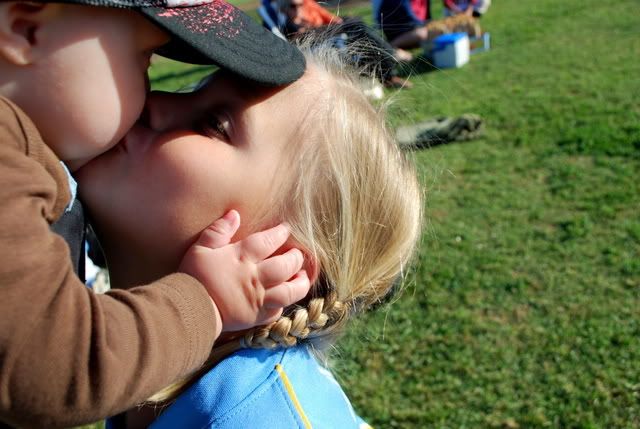 Sometimes, those kisses came with a price...but she didn't mind.
How you always slide into home plate...no matter what. And Carter never quite understood how to get that one leg in front of him no matter how hard Chad tried to correct him. He'd scrape up his knees every time.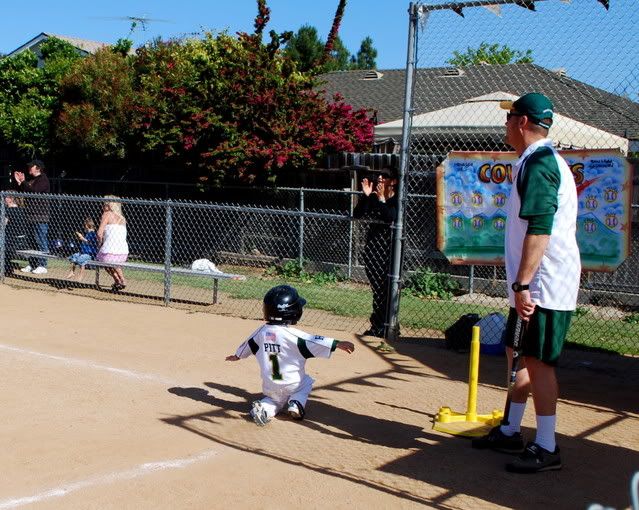 How Alexis wasn't bothered one bit that she was the only girl on the team. She kept up with the rest of them. Chad really thinks she has a future in softball. Especially, since he asked her what her favorite sport is and she said t-ball. I think he underestimates how smart she is. She must be saying that because he wanted to hear it. Certainly, soccer comes first! Chad will beg to differ.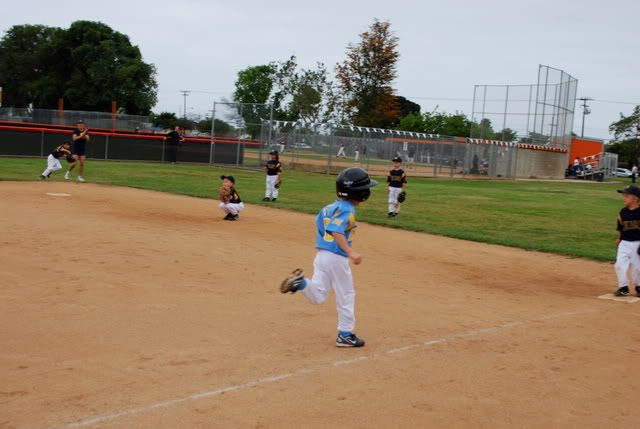 How Carter "came out of his shell." Even one of the Mom's came up to me today noticing how much he's changed. In the beginning, he'd shy behind Chad or I at practice or games. But now he is so sad it's over. He loves it and loves playing with his friends and giving his coach the biggest hugs after every game. He even won the award of "Best Listener" at his T-ball party today. He really did listen and did whatever was asked of him.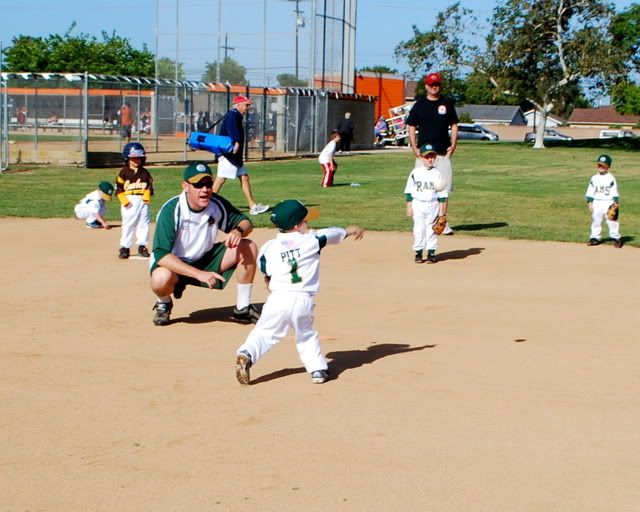 How Owen never lacked attention at the games. If Grandma and Grandpa Pitt, Grandma and Grandpa Miller, Uncle Jacob or Aunt Emily weren't holding him on the sidelines...the other Mom's on the team were more than happy to get their hands on him. Rough life, huh?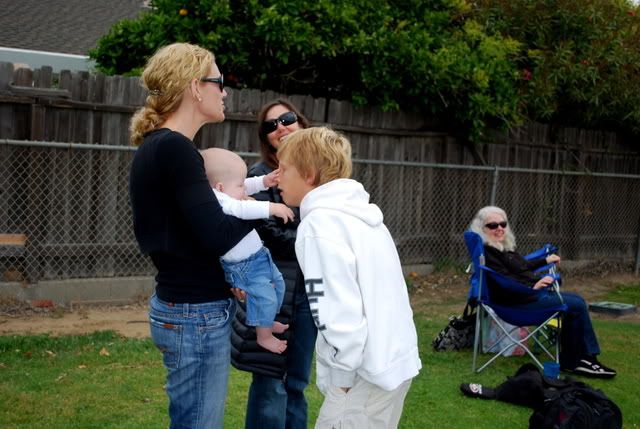 How Chad taught these kids some really good form!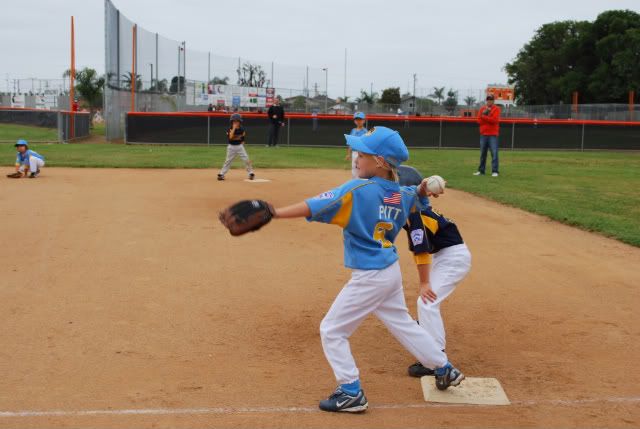 That about wraps up my favorites. Life gets crazy running from one thing to the next. Swim team started and today was the first competitive swim meet. We literally ran from swim team (8am-10am: Alexis swam in the first 2 events) Then off to Carter's t-ball game (10-11:15) Luckily, Alexis wasn't swimming in events at that time. Then back to the swim meet for Alexis to finish 3 more events. Then back to t-ball for Alexis' last game. And we test drove a car in between since we sold our 4 runner. PHEW, we're pooped!
But it sure is fun to see these kids play. And even more fun when their Dad is coaching them every step of the way. T-ball was a success.